Port-A-Brain
Whilst this is not strictly glass jewellery, it does come under the topic of glass casting.
A friend of mine was going into hospital for brain surgery and joked that the neurosurgeon might not find anything when he opened her up. So I made her this Port-A-Brain to take into hospital.
Firstly a small brain shape was made from plasticine on a glass tray:
A small piece of plastic pipe was placed around it and the inside of the mould liberally lubricated with liquid soap.
Casting plaster was mixed in a rubber bowl and then poured over the brain. The tray was tapped sharply to try and remove air bubbles from the plaster.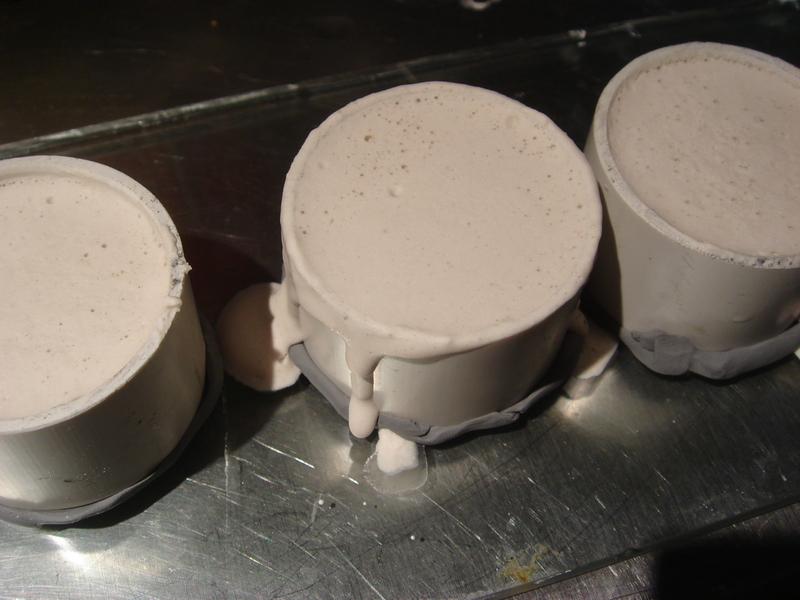 Once the plaster was set, the plasticine brain was carefully extracted from the mould using old dentist tools. The mould was then dried in the kiln before being filled with glass frit, allowing extra glass to compensate for the loss in volume as it melted. The kiln was then taken up above 800 degrees so that the glass could melt fully, before an anneal cycle and cooling.
The plaster mould was broken up to release the glass brain. As I had decided to use clear glass frit in the mould, the brain definition did not stand out very well. So a black glassline pen was used to fill in the brain folds and the brain refired to fix the black colouring.
I then lined an old Lush shampoo tin with aqua silk:
Before producing a suitable label for the tin.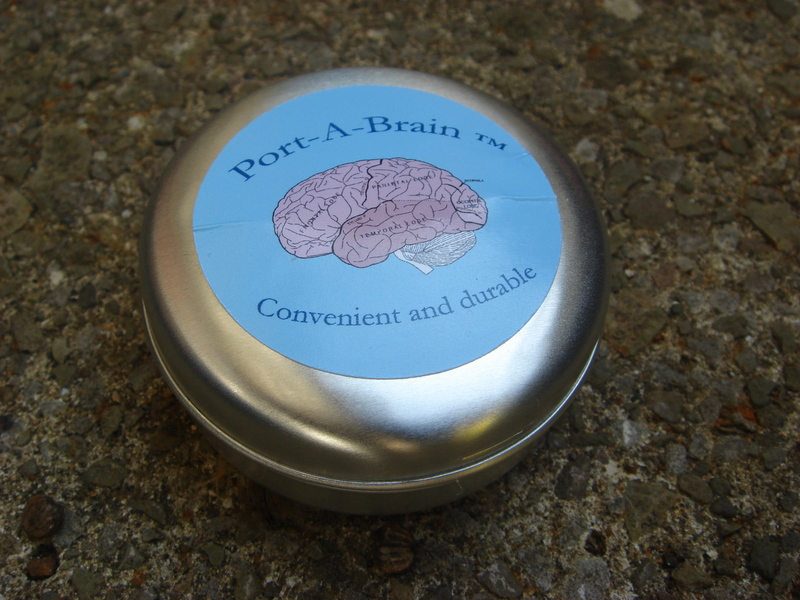 The Port-A-Brain was supplied with the following instructions inside the tin:
The Port-A-Brain™ is invaluable for those occasions when you suddenly find you need a spare brain in a hurry.
Mislaid your old brain? No problem! The Port-A-Brain™ is suitable for anyone.
It can be easily sterilised and can be installed by any neurosurgeon who has completed our specialist Port-A-Brain™ training course.
Note: Redcot Industries PLC do not guarantee the intellectual performance or functionality of the Port-A-Brain™. We recommend that you refrain from driving and operating heavy machinery for at least 2 weeks after insertion of your Port-A-Brain™.
I am pleased to report that my friend's surgery was a great success and she didn't need the Port-A-Brain after all.
Return to JarkWoman Glass Jewellery home page